"White line mentality - when you cross the line, you're in match mode"
November 26, 2020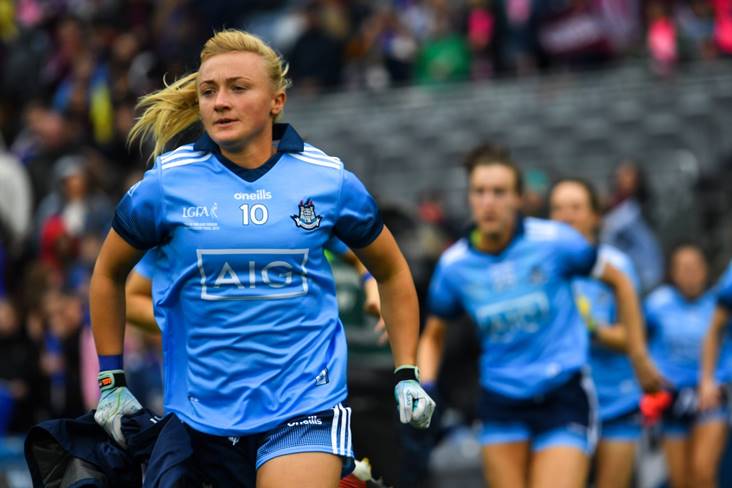 Dublin's Carla Rowe ahead of the TG4 All-Ireland Ladies Football Senior Championship Final match between Dublin and Galway at Croke Park in Dublin. Photo by Ramsey Cardy/Sportsfile.
2020 has been a year like no other – but there's still history to chase.
Lidl One Good Club™ Ambassador Carla Rowe is a key member of the Dublin team going in search of a fourth successive TG4 All-Ireland Ladies Senior Football title. The Clann Mhuire player collected her third All-Ireland Senior medal in 2019 – and a third All Star award.
Rowe is one of the game's leading players – a Sky Blue tyro who works selflessly for the team and has a keen eye for a score. She's used to playing in front of record-breaking crowds but now she's strutting her stuff behind closed doors.
In this fascinating 'Game Day' experiential video, Rowe takes you behind the scenes as Dublin look to book their place in the TG4 All-Ireland semi-finals. Watch her day unfold from early morning as she prepares her kit bag, has her customary pre-match phone call with her dad, an emergency services worker, and hits the road for Baltinglass to join up with her county colleagues. Their opponents are Waterford and Carla knows what it's going to take to get over the line;
"We always talk about the white line mentality – when you cross the line, you're in match mode."
"Working hard, linking play…if she attacks, I'm going to have just as much energy to counter-attack."
Speaking about the release of the video ahead of this weekend's semi-final, Rowe commented; "This has been a year like no other and, as an ambassador for the Lidl One Good Club programme, I'm fully aware of how difficult it has been for so many people around the country from both a physical and mental health perspective. With that in mind, the support we continue to receive from the Dublin fans is a huge motivation and we are determined to do them proud whether we can see them or not. While they haven't been able to watch us in person this year, I hope this video gives them a taste of the 2020 championship experience from home and whets their appetite ahead of the semi-final this weekend."
Dublin will play Armagh in the TG4 All-Ireland Senior Championship semi-final this Saturday, November 28, at Kingspan Breffni, Cavan (4.30pm).
Most Read Stories