What they said…the weekend in quotes
November 23, 2020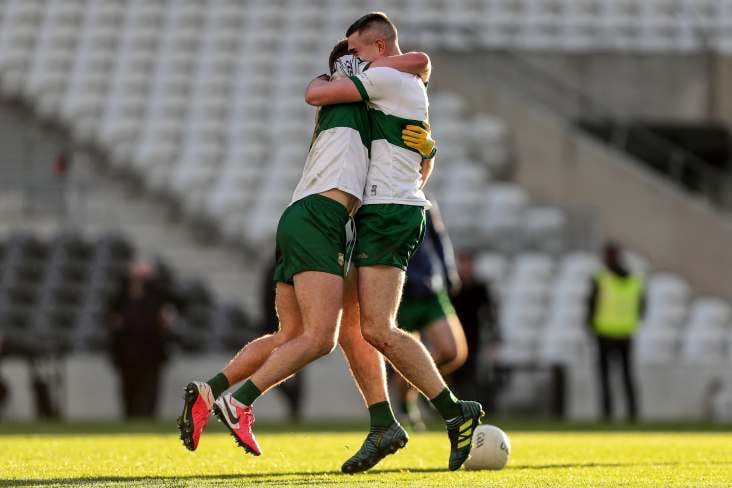 Tipperary's Colm O'Shaughnessy and Michael Quinlivan celebrate at the final whistle
A weekend of commemoration along with historic upsets in the football championship drew some emotion from all concerned…
"I thought last night was absolutely fantastic at Croke Park and to be winning on this occasion and, as I said, we're on TV, everyone watching us. That's unbelievable PR for Tipp football going forward."
Tipperary football boss David Power was mindful of what the Bloody Sunday commemoration meant the previous evening after his side upset Cork in the Munster SFC final on Sunday.
"When you are playing a team like Tipp who have really serious forwards and tough, tight backs, we were delighted we rose to the challenge."
The 3-23 to 2-24 victory over Tipperary last Saturday sees Shane O'Neill's Galway side facing Limerick in the All-Ireland SHC semi-finals this Sunday.
"Just came up a bit short. Tight margins. Fought like champions, went out like champions and really that's all I can ask."
Tipperary manager Liam Sheedy was proud of his players after the heart they showed in playing the playing the closing 20 minutes at the Gaelic Grounds with 14 men and coming up just two points short.
"They have their opponents psychologically smashed. They (the Leinster counties) don't believe they can take on Dublin. It's a huge task. They're beat before they arrive here. Dublin are so far ahead."
Following Dublin's 21-point dismantling of Meath in the Leinster SFC final on Saturday night, RTE analyst Ciaran Whelan saw it as worrying for the game.
"This is what I dreamed of happening, the vision I had. That's not to sound arrogant in any way. I feel these players are capable of playing at this level, these big days and big occasions. Maybe a little bit flattered to be doing it so soon, but the opportunity is here now so we have to grab it and see where it takes us in seven days' time."
2020 has marked an excellent debut season for Waterford hurling manager Liam Cahill thus far and next up is an All-Ireland semi-final against Kilkenny.
"We were chasing it from a very early stage, we just weren't able to compete at that level on the day for whatever reason. You have to give credit to Dublin, they are where they are and they totally outplayed us in probably every facet of the game."
Andy McEntee offered no excuses following his Meath side's hammering at the hands of Dublin on Saturday night.
"We knew we'd have to step it up for a Leinster final and based on what we'd seen from Meath they were coming in very confident, had been bagging a lot of goals, were on the crest of a wave so it was definitely going to focus the minds for sure. I think we saw a pretty decent and focused performance from us tonight which was very pleasing."
As it showed on the night, Dessie Farrell and his Dublin players were not taking Meath for granted in the slightest when the sides crossed paths at Croke Park on Saturday.
"Words can't describe [what this means to Cavan]. It's just huge. That's all I can say. They gave everything you can ask of a team: Honesty, guts, determination, belief. When nobody else had it, they had it. I'm just delighted for them."
Having steered his native Cavan to their first Ulster SFC title in 23 years, an emotional Mickey Graham hailed his players for their whole-hearted performance against a hotly-fancied Donegal side.
"Today is for every single player, manager, family member that's from Cavan. It was them that drove us on because they have been starved of days like today. We just wanted to make them proud."
Sunday evening saw Cavan captain Raymond Galligan became the first Breffni man to raise the Anglo-Celt Cup since Stephen King back in 1997.
"I think, being the year that it is, absolutely I think Cavan should be playing Dublin in a neutral venue. Croke Park's going to be empty anyway so there's no reason why the game needs to be played in Croke Park. I'd imagine that powers that be in Cavan would be making that point."
Tyrone great Peter Canavan doesn't see why next Saturday week's All-Ireland SFC semi-final between Dublin and Cavan has to be held at headquarters.
Most Read Stories