What they said…the weekend in quotes
November 16, 2020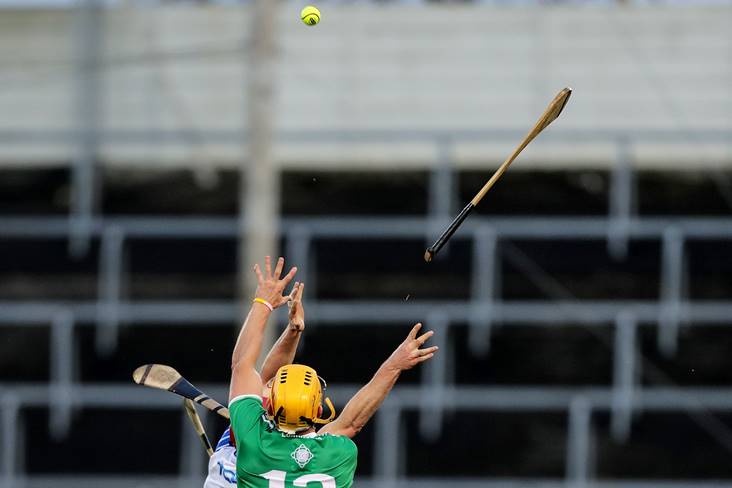 Waterford's Tadhg De Burca with Tom Morrissey of Limerick. ©INPHO/Laszlo Geczo.
It was a weekend which saw provincial championship winners crowned as well as the end of an era for Tyrone football.
"I will be forever indebted to the fantastic people of Tyrone, and indeed Gaels across the entire globe. Through the various highs and lows, my family and I have been supported by so many good people from all backgrounds and communities."
Tyrone boss Mickey Harte confirmed his decision to step down after 18 years with a statement released on the county board's website on Saturday morning.
"There's definitely room for improvement and we'll go back and analyse that but we've a big seven or eight days ahead of us towards an Ulster final."
Following his side's impressive 12-point victory against Armagh, Donegal manager Declan Bonner was eyeing further improvement ahead of the Ulster SFC final.
"At the end of the day if we're not leaving here in two weeks' time as winners, the enjoyment of tonight will disappear very quickly."
Brian Cody was quick to turn his attentions towards the All-Ireland SHC semi-finals after Kilkenny's Leinster final win over Galway
"When you're trading points for goals the scoreline changes fairly rapidly. I've never been involved in a game with that kind of a scoreline. We were beaten by nine points and I think we had more scores more than Meath had."
Kildare manager Jack O'Connor was speaking after his side saw a six-point lead wiped away by five Meath goals in the second-half of Sunday's Leinster SFC semi-final.
"We said if this is going to be the last 35 minutes of the year, lets go out fighting and try and give them a game."
After turning around a 10-point deficit against Down, Mickey Graham and his Cavan players reached back-to-back Ulster SFC finals on Sunday afternoon at the Athletic Grounds.
"Mickey Harte leaves owing Tyrone football absolutely nothing. When he came into it, we had never won an All-Ireland. I was on the Tyrone senior panel for 13 years trying to get my hands on the Sam Maguire. Mickey Harte arrives on the scene and I leave three years later with two All-Irelands."
Tyrone great Peter Canavan paid a glowing tribute to Mickey Harte following his departure as manager.
"I'll say this on the record - myself and Brian Lohan - I don't have much time for him and he doesn't have much for me. But I think it's very important; he was getting a bit of hassle there recently, let him do the job."
Wexford manager Davy Fitzgerald was speaking after his side exited the All-Ireland SHC on Saturday at the hands of Brian Lohan's Clare.
"They're in a good place, and have racked up some really good scores. And in this game, scoring goals at the rate they're scoring definitely warrants attention, that's for sure. So, we'll be under no illusions as to what lies in wait for us next weekend."
Goal merchants Meath have impressed Dublin boss Dessie Farrell as the two sides get set to clash in this weekend's Leinster SFC final.
"We could have put 15 men behind the ball, and tried to keep it to 10 points, but we wanted to have a bit of a go, but it probably didn't manifest itself in the way that we would have liked."
Laois manager Mike Quirke refused to deploy all out defensive tactics in Sunday's Leinster SFC semi-final against the Dubs.
"It was very tight towards the end. We probably didn't finish the way we wanted but look, we got the win and a lot of our lads here, it's their first time in the Connacht final, so it was great to get over the line and win our first Connacht title."
'Man of the Match' Matthew Ruane expressed his delight after winning his first Connacht SFC medal with Mayo after James Horan's men edged Galway in Salthill on Sunday.
"We've 10 players at home, which in my view is completely and utterly unacceptable, given that I've 20 reporters standing in front of me and I've 10 of my panel at home. I'm quite offended by that situation we've been put in. I would appeal to the authorities at government level, at national level, to end this nonsense and allow the panels across all the county teams to be together."
Speaking after his side had just retained their Munster SHC crown, Limerick manager John Kiely hit out at the restrictions which prevent all squad members from attending championship games.
Most Read Stories