The late Denis Heaslip
November 26, 2020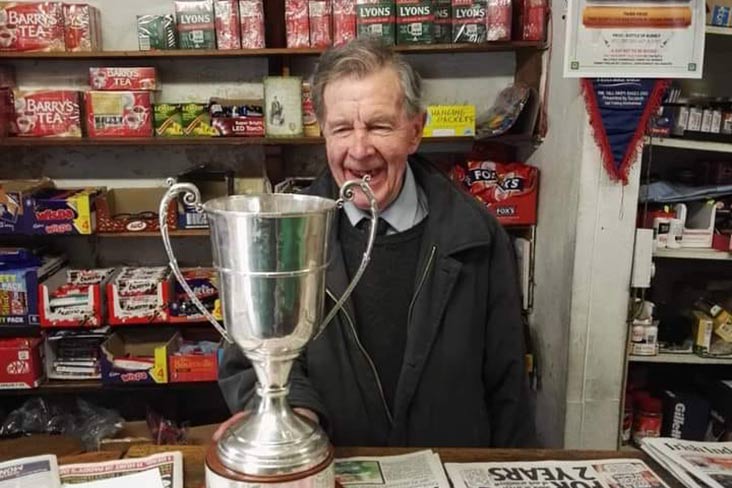 The late Denis Heaslip pictured with the All Ireland Club SHC Cup
Sad to report the passing of Kilkenny's two - time All Ireland medal winner, 87 year old Denis Heaslip.
Kilkenny raised the Liam McCarthy Cup in 1957 and 63 and the fast, skilful Knocktopher hurler donned the number 10 jersey on both occasions.as neighbours Waterford felt the full wrath of the Cats.
It was 4 -10 against 3-12 in 57 and 4-17 over 6-8 after an epic on a sultry Sunday in 63.
Kilkenny and the Cats had some remarkably high scoring encounters during this period and in the 1959 decider the men from the far south east had their revenge when overcoming the Black and Amber in that years decider and after a replay, 3-12 to 1-10.
Amazingly in the drawn clash Waterford hit 8 scores more than Kilkenny, 1-17 against 5-5, but still failed to land Liam. The goal soring of the Cats is always and still is, a huge threat to opponents. No need to ask what number jersey Denis Heaslip wore.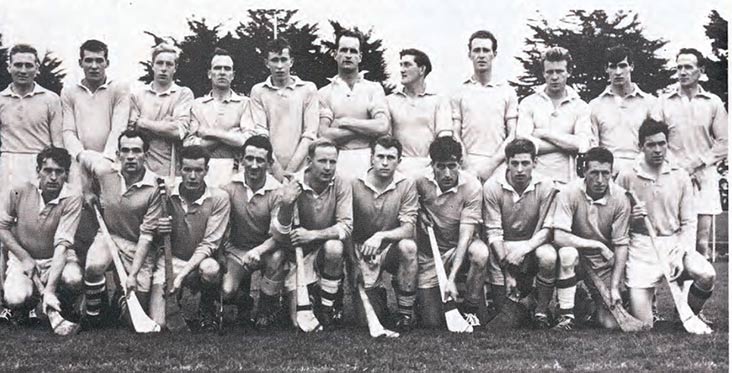 Knocktopher - Kilkenny JHC winners 1965. Front l-r: Owen Dermody, Jim Fowler, John O'Donnell, Willie Dalton, Dave Rice, Pat Carroll, Jimmy Ryan, Maurice Aylward, Tommy Maher, Denis Heaslip. Back l-r: Neddy Walsh, Frank Cummins, Ned Fitzpatrick, Donie Gorey, Maurice Mason, Tommy Walsh, Frank Aylward, Jim Mason, Bobby Mason, Ollie Cummins, Denis Gorey.
Denis Heaslip also won a NHL medal in 1962 as Cork were well beaten, 1-16 to 1-8. This time Denis was placed at right full and a certain youngster called Eddie Kehir was the proud owner of the number 10 gansey.
On the club front Denis Heaslip was a key player on his local Knocktopher team which gained county Junior Championship honours in 1965, at a time when it was extremely hard to win that particular title.
A teammate was the great Frank Cummins. Knocktopher disbanded in the early seventies and became part of the new Shamrocks club, a unit that we were to hear much more about in the years to follow.
Incidentally you can see great shots of Denis Heaslip hurling against Waterford in that 1957 final as action from this match was included in the well known film Rooney
Funeral details
In keeping with current HSE and Government guidelines regarding public gatherings, Requiem Mass for Denis will take place on Friday, 27th November, at 12 noon in The Carmelite Church, Knocktopher (maximum 25 people in the church). Burial afterwards in the adjoining cemetery. The Requiem Mass can be viewed live on https://www.facebook.com/Ballyhaleknocktopherknockmoylan and will also be available on Parish Radio - 106.5fm.
Please use the online condolence page as an option to offer your sympathies.
Ar dheis De go raibh a anam.
Most Read Stories