What they said ... the weekend in quotes
September 03, 2018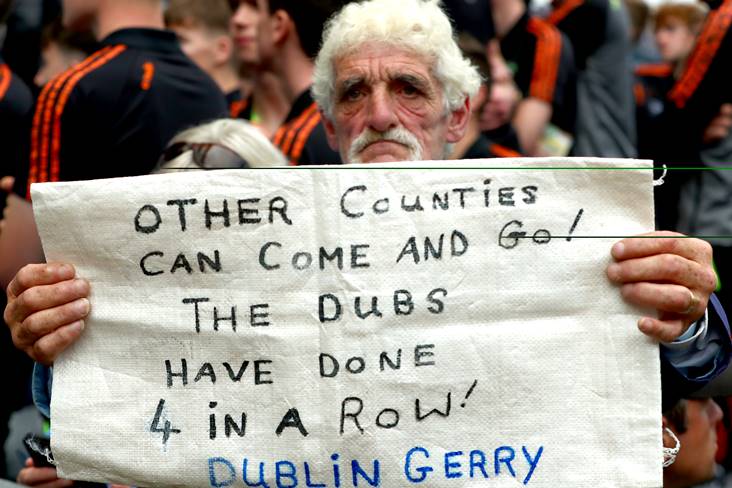 Dublin fan Gerry celebrates a four-in-a-row of All-Ireland SFC titles after the victory over Tyrone at Croke Park. ©INPHO/James Crombie.
"My Dad's a Kerryman and he reminds me of the heartbreak and the Offaly last minute goal or whatever."
The elusive 5-in-a-row is very much on for Brian Fenton and the Dubs.
"These lads gave me a gift last year, my dad could see me win the All-Ireland. He was here in spirit today."
It was an emotional day for Philly McMahon following the passing of his father, Phil senior, earlier this year.
"We seemed to go into panic mode, which is crazy to think because we felt we could manage the game if we went 5-1 up. But we were reckless, we kicked shots away and we made bad decisions."
Colm Cavanagh and the Red Hands will have plenty of regrets over the winter months.   
"It is team, team, team and I think they have demonstrated that again today."
There is no room for individuals in Jim Gavin's Dublin set-up.
"I just can't fault the players for the effort they put in. On the field you could see the disappointment in every player because they gave a lot out there and because of the really good start we had."
Mickey Harte had no complaints.
"It was backs against the wall there. They really put it up to us in those first 20 minutes. We got a lucky break with the penalty. Just glad I tucked it away. I suppose that probably gave us a boost, we woke up a bit and strung together a few points."
Paul Mannion's first-half penalty sent the metropolitans on the road to victory.
"That's a big job. I don't think there's any such thing as an application form in the GAA for jobs like that. That's something that a chairman, a secretary and their committee will sit down and probably pinpoint somebody that they want to give that job to. You can only make a decision like that or answer a question like that if you happen to be some guy who's asked to do it."
All-Ireland winning Kerry minor boss Peter Keane's name has been strongly linked with the senior vacancy in the Kingdom.
"It is disappointing. We put a lot of energy into the first half. Some of our guys played beyond where they were at the start of the year. When you are beaten by a better team, it is easier to take."
Donal O Fatharta and Galway made Kerry earn their Tom Markham Cup five-in-a-row.
"I think I spent the longest time with you Michael and I would like to say thank you for your courtesy, your civility and your professionalism because you never wanted to be the story - you let us get on with it and you were just fantastic, well done."
Colm O'Rourke led the tributes to Michael Lyster who has retired from the Sunday Game hot seat.
"You better not be going to Sky!"
Joe Brolly had a warning for the popular broadcaster.
"I don't think so. The reality is that I've had a lot of phone calls, text messages from the player group this week. The Mayo players, every day they went out, went out and gave it everything and it was no difference the last day against Kildare in Newbridge."
Stephen Rochford poured cold water on speculation that the players didn't want him to stay on as Mayo boss.
Most Read Stories